The primary objective of Kautik is to offer participants a platform to showcase and talk about their films, as well as an opportunity to interact with industry professionals and learn invaluable tips and techniques gathered through years of real-life filming experience. At last year's edition, quite a few informal masterclasses were conducted during the course of the festival. This year, FTII-Pune conducted an official, intense 5-day film appreciation camp; from April 11 to 15.
The Finance Minister—Govt of Uttarakhand, Shri Prakash Pant, presided over the Valedictory function and presented certificates to 91 participants in the presence of Prof. Sandeep Shahare, National Coordinator, SKIFT (Skilling India in Film and Television) FTII; Course Directors Subhamoy Sengupta and Bela Negi (see pic above); Festival Director Rajesh Shah & Artistic Director Shalini Shah. The Course was held in association with Nainital- based Himalayan Society for Art, Culture, Education, Environment and Film Development (HIMACEEF) promoted by filmmakers/academicians Rajesh Shah (FTII—Cinematography batch of 1992) and National-Award winning docu filmmaker Shalini Shah.
The course participants came from 10 states—Uttarakhand (Nainital, Dehradun, Haldwani, Khatima, Almora, Kathgodam, Ramnagar and Rudrapur), Uttar Pradesh (Lucknow, Bareilly, Meerut, Ghaziabad, Bijnore, Mathura and Bahedi), Rajasthan (Jaipur, Alwar and Bhilwara), Punjab (Hoshiarpur), Kerala (Kannur), West Bengal (Kolkata), Gujarat (Ahmedabad), Maharashtra (Nagpur), Delhi, and Haryana (Faridabad).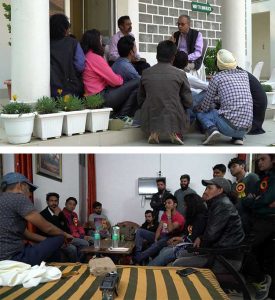 In the pics to the left—taken at the previous edition—is Bhupendra Kainthola (director—FTII) and Kamaljeet Negi (cinematographer—'Vicky Donor', 'Piku', 'Jolly LLB2'), respectively, interacting with the students.
Others who conducted similar such sessions at Kautik 2017 include Lalit Tiwari (actor), Anwar Jamal (documentary filmmaker),  Jyoti Kapur Das (filmmaker), Sandeepan Vimakant Nagar (theatre activist/actor), Ahsan Bakhsh (scriptwriter), Rajeev Katiyar (director—Films Division), & Dalton L (film critic/essayist).